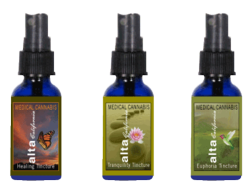 San Francisco, Calif. (PRWEB) May 10, 2011
CBD Science LLC has developed three Cannabis Based Medicinal Extracts (CBME), now available in selected California dispensaries. Branded Alta California, the CBMEs are derived from organic plant material and offer patients a choice of a low, medium or high euphoric component (THC), balanced with the healing element (CBD). Product information is available at http://www.4altacalifornia.com.
These are the first CBME products on the market with certified potency and purity, scientifically calibrated and documented. Steep Hill Lab certifies the CBMEs as Safe Cannabis™, free of pesticides and mold. The lab also documents the potency.
Alta California CBME products are available to patients with valid recommendations at the following non-profit dispensaries: Medithrive in San Francisco http://www.medithrive.com, Cr