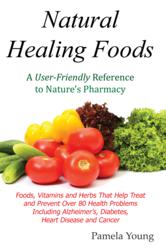 Scottsdale, AZ (PRWEB) August 24, 2011
"Natural Healing Foods" (CAVU Publishing) has been selected by the Independent Book Publishers Association to be featured on the cover of Publishers Weekly's August 29 edition highlighting the works independent publishers.
Author Pamela Young says, "I'm very excited to have been selected – there's a lot of competition for attention in the book world, and landing on the cover of Publishers Weekly is a real honor."
"Natural Healing Foods" is a convenient reference to the foods, spices, vitamins, and herbs that help treat or prevent over eighty health problems, including Alzheimer's, diabetes, heart disease and cancer. Research now shows that due to many problems with drug interactions and side effects, natural remedies may be a better option for treating illnesses.
Finding accurate, easily accessed information, however, has been challenging – until now. Young has made "Natural Healing Foods" as user friendly as possible. She states, "There are many books out there on the subject of food and health, but I found them to be voluminous and cumbersome to use. I wanted a well-researched, easy to use book where readers can quickly find answers to health problems as they relate to nutrition."
Major schools and hospitals, including Duke University, Mayo Clinic, University of Maryland, University of Michigan, and the University of California are now doing extensive research into natural remedies. For example, a University of California study revealed that mice fed a diet of walnuts experienced a 40% reduction in the size of prostate tumors. The eighteen-week study showed that, for humans, three-quarters of a cup of walnuts per day can reduce tumor growth,
As one doctor's review says, "If you are interested in looking at foods and herbs for various ailments, "Natural Healing Foods" would be a great book to have in your library."
Founded in 1983, the Independent Book Publishers Association (IBPA) is the largest not-for-profit trade organization for publishers in the United States, serving more than 3000 book publishers of all sizes. IBPA's mission is to help independent publishers market their titles, to provide education on all aspects of publishing, and to act as an advocate for publishers' rights.
For more information, interview requests, and review copies please contact CAVU Publishing.
###