New Age Religion Redefines Black History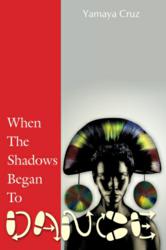 Newark, NJ (PRWEB) November 06, 2011
"My first memory is me as a child, running from the shadows," says Cruz about growing up with a mother with schizophrenia. From this experience, Cruz took a different approach to self-help and new age religions. People create mental prisons for themselves, whether it is guilt, regret, or longing, everyone is tortured by the voices in their heads, says Cruz.
These voices are what Cruz calls the shadows, the suppressed memories, thoughts, and emotions. The only way to tame those voices is to bring them into the light. People can do this through awareness by understanding the truth about history.
'When The Shadows Began To Dance' is a book that rediscovers black history through the main character Nelly Reyes. She suffers from mental illness, a broken family, abuse, and neglect. She is able to piece back the parts of her soul by allowing herself to be guided by her ancestors and the Seven African Powers.
Nelly is then able to understand the religion of her ancestors, a religion that helped them to survive slavery in the New World. When The Shadows Began To Dance is now available on Amazon.com. for purchase.
Yamaya Cruz reveals the hidden secrets of the past. She incorporates ancient knowledge with African folklore to create a storyline that is powerful and haunting. She writes with fearless passion, keeping the reader engaged long after the story is told. She aspires to write books that are about spiritual healing, with emotional feeling, so peoples shadows can dance. She currently writes articles and blogs about shamanism, Orisha worship, chakra healing, and much more!
For more information about When The Shadows Began To Dance, please visit http://www.alternativevibrations.com or contact Oshun Love at 201-297-4773.
###
Related Spiritual Healing Press Releases