New Book Asks: Can Traditional Religion and New Age Beliefs Coexist?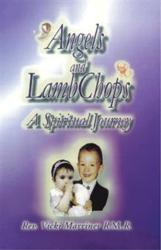 Perth, Australia (PRWEB) February 23, 2012
Rev. Vicki Marriner is known by those closest to her as a clairvoyant, a psychic medium and a spiritual healer. But it wasnt always this way. In fact, for most of her life, Marriner wasnt even aware of the spiritual gifts she possessed, which she discusses in her new book, Angels and Lamb Chops: A Spiritual Journey (published by Balboa Press).
It wasnt until the devastating loss of one of her twin newborn babies that Marriner began to understand her connection to another world. The traumatic event sent Marriner catapulting down a path of grief and hardship that eventually lead to self-discovery and a spiritual awakening. Marriner writes about her journey in the new spiritual memoir, Angels and Lamb Chops.
A tribute to her twin girls, who were nicknamed Angel and Lamb Chop upon their birth, Marriners book provides readers with a brutally honest account of some of lifes most difficult moments and gives encouragement to persevere.
Forgiving ourselves is the biggest lesson in life, Marriner says. If our soul is free of past baggage, we can move forward with love in our hearts for what is ahead.
Moving forward is exactly what Marriner did. She developed an unusual outlook on life one that married traditional religious views with progressive New Age beliefs about spirituality. Today, she is happy performing marriage ceremonies along with psychic readings and spiritual cleansings.
Marriner says she hopes her own life experiences can inspire others to become more grounded to their lives here on Earth and more connected to the nearby spiritual world. Only then, Marriner says, can we achieve personal growth, understand the power of forgiveness, and find peace with ourselves.
For more information, visit vickimarriner.authorsxpress.com.
Angels and Lamb Chops: A Spiritual Journey
By Rev. Vicki Marriner, RMR
ISBN: 978-1-4525-0212-0
Approx. 145 pages
Paperback 6×9
Retail price: $ 17.99
E-book price: $ 9.99
Available at Amazon, Balboa Press
About the author
Rev. Vicki Marriner is the president and minister of Reality Dreams Spiritual Church in Mandurah, Western Australia. She is also a lifetime member of the Golden Light spiritualist church and an international guest minister and psychic medium. Her services include religious ceremonies, hypnotherapy, spiritual healings, aura readings, chakra cleansing, and more. She has traveled to England, Ireland, Scotland, Wales, Canada and New Zealand to share her gifts with others.
# # #