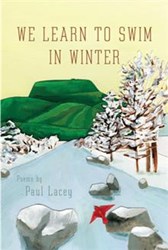 Richmond, Ind. (PRWEB) December 11, 2013
The renowned philosopher and psychologist William James believed that one learns by incorporating bodily knowledge, the way one recalls how to swim in winter. One recalls by muscle memory. One adapts and form habits from ones daily experiences. This insight helps shape Paul Lacey's new poetry book, "We Learn to Swim in Winter.
Poetry invites one to look closely as a visual artist sees things, paying respectful attention to people, animals and nature. It teaches one to see well, to meditate on and celebrate what one sees. We Learn to Swim in Winter gives voice to memories of family and friends who enrich the inner meanings of ones life. They are present in everyones lives and draw out emotions of — joy, laughter, the pleasure of companionship and the truth of grief. Here are poems closely observing war remnants in Vietnam, homeless people in freezing weather, a prisoner in prolonged solitary confinement, recording participation in political demonstrations. Telling the truth about those lives is an ethical responsibility.
His poem Winter Postcard reads: