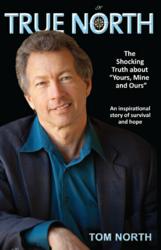 Carmel, California (PRWEB) April 24, 2013
After years of struggling with the decision about whether or not to tell his true story of growing up in the Carmel family made famous by a hit movie, author Tom North gathered the courage needed to write his book, TRUE NORTH – THE SHOCKING TRUTH ABOUT "YOURS, MINE AND OURS. It wasnt easy to write about a subject that many people consider too private and that would make them feel uncomfortable. After all, the idyllic seaside community might be shocked to learn the truth about the famous local family they had grown to love and admire
Tom North explains, In the 47 years since the movie, Yours, Mine and Ours starring Lucille Ball and Henry Fonda became the 4th highest grossing film of 1968, it has not been unusual for one of my siblings or me to be asked what it was like to be part of that big wonderful family. Having seen the film many times, I must agree that what became known among my brothers and sisters as the big lie was actually a very charming film and a well-told story. Would that it had been true!
The book begins in the 1950s on Whidbey Island, Washington, where Toms mother, Helen North, became a widow when she was just 30 years old and pregnant with her eighth child. Not long after, Helen North met and married Frank Beardsley, a man with 10 children, and she moved her family to his house in Carmel, California. The North children were adopted and their names were changed to Beardsley, and they went from a life filled with love and happiness to a living nightmare. The stepfathers violence, abuse, and even sexual abuse created a life of intimidation, confusion, turmoil, fear and depression for the North children. All hope seemed lost as Tom realized that he was caught in a prison and there was no way out.
TRUE NORTH is the story of my journey through a life of domestic violence and child abuse, North remarks. Along with suffering from the abuse and the shame, my siblings and I also had to carry the additional burden of secrecy because we were famous. There was no one to turn to. Who would believe this perfect family was so far from perfect?
April is National Child Abuse Prevention month. Currently there are over 10,000 victim service organizations working to help victims of child abuse, domestic violence, sexual assault, and other violent crimes in the United States. Yet, the silence that surrounds domestic violence and child abuse is deafening. The traumas experienced by children as a result of domestic violence and sexual abuse all too often are carried into adulthood in the form of poor academic achievement, lower IQ scores, poor language skills, low self-esteem and trauma-related symptoms. Victims frequently travel down destructive paths which include drug abuse, crime, and even continuation of the child abuse cycle as they abuse their own children.
Siobhan Greene, Director of Voices for Children-CASA of Monterey County, California, (Court Appointed Special Advocates for Children) states: Tom North takes his readers on the painful journey of child abuse with honesty, candor and even humor. He reveals the shame, sense of betrayal and outrage, as well as the inevitable poor life choices that are a young persons response to persistent and often cruel maltreatment. While the reader might wish child abuse were not part of our world, North bravely tells the truth; the very thing that gives way to healing and forgiveness.
North notes, My mission now is to reach out to people who feel isolated or misunderstood in the world and help them understand that they are not alone, and that their feelings may well be related to experiences they had in their early lives when they felt victimized by those who had greater power than they did. The healing never stops. Every day is another day of coping. But there is help, and hope.
TRUE NORTH – THE SHOCKING TRUTH ABOUT "YOURS, MINE AND OURS is published by True North Productions, LLC, and scheduled to be released in July 2013. For more information, visit: http://www.TrueNorthbyTomNorth.com
About Tom North: Thomas R. North is a writer, poet, and adventurer. As the 11th of the 20 Beardsley children made famous in the film Yours, Mine and Ours, Tom had first hand experience of what it was really like to grow up in that family in Carmel, California. Having spent his formative years growing up in the forests of the Pacific Northwest, Tom was guided to seek solace and sanity in nature and later, Eastern Meditation.
He has become a successful financial advisor, writer, poet, and motivational speaker. Tom has written extensively about scuba diving, jade hunting in the wilds of Big Sur, and spiritual topics as well. He is working on his second book, The Economics of Spiritual Transformation
Contact for book reviews, author interviews and to schedule author appearances.