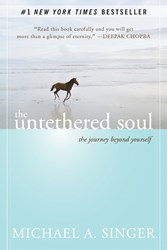 Oakland, CA (PRWEB) August 26, 2013
At the beginning of 2012, a New York Times bestseller was a distant dream for New Harbinger Publications. Midway through the year, it became a reality, due to The Untethered Soul: A Journey Beyond Yourself. The book, originally published in 2007, surged after it and its author, Michael Singer, was featured on the Oprah Winfrey Network (OWN)s hit show, Super Soul Sunday. Since that airing, it has been on the Best Sellers list for 30 weeks and counting. When Oprah featured the book on her Good Morning America episode in October 2012, the book catapulted to #1 for the Paperback Advice and Miscellaneous category. Almost a year later, after the Super Soul Sunday episode featuring Michael Singer re-aired, The Untethered Soul has once again shot up to #1 for the week of September 1, 2013.
About The Untethered Soul

In The Untethered Soul: The Journey Beyond Yourself, author Michael Singer explores the question of who we are and arrives at the conclusion that our identity is to be found in our consciousness the ability to observe ourselves and the world around us. The Untethered Soul taps into meditation and mindfulness traditions and shows how developing consciousness can enable all of us to dwell in the present moment and let go of painful thoughts and memories that keep us from achieving happiness and self-realization.