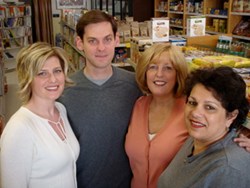 Orland Park, Illinois (PRWEB) July 29, 2013
Mosquitoes are much more than an outdoor annoyance, they bred and carry many deadly diseases. With conditions favorable for a high presence for mosquitoes this summer, and knowing the well documented harmful affects of DEET, consumers should consider using natural and homeopathic mosquito bug repellants, remarked, Diana Sourek, MS, CNC, Certified Gluten Practitioner, and manager of New Vitality Health Foods, Inc.
Sourek continued, Many natural remedies have been used for centuries in order to protect the human population from mosquitoes and other insects. Research has proven that many of these herbs, most of which can be grown in a garden, are just as effective as DEET, a toxic chemical found in many store bought insect repellents.
Sourek recommends:
1. Catnip, studies show to be more effective than DEET

Researchers report that nepetalactone, the essential oil in catnip that gives the plant its characteristic odor, is about ten times more effective at repelling mosquitoes than DEET the compound used in most commercial insect repellents. There are several easy and effective ways to use catnip as a mosquito repellent. Catnip can be grown in a garden or indoor planter. The leaves can be crushed and boiled with water or vinegar to make a spritz. Second, the plants leafy stalk can be crushed rubbed directly on skin or clothing. Additionally, catnip oil can be used to make a spray repellent. (1)
2. Apply Lemon Eucalyptus Oil

Lemon Eucalyptus Oil contains the same repellent properties as DEET. According to the Center for Disease Control (CDC), lemon eucalyptus oil could be a much safer and more natural weapon.
Oil of lemon eucalyptus [active ingredient: p-menthane 3,8-diol (PMD)], a plant- based repellent, is also registered with EPA. In two recent scientific publications, when oil of lemon eucalyptus was tested against mosquitoes found in the US it provided protection similar to repellents with low concentrations of DEET. (2) Lemon and eucalyptus oil are available at New Vitality Health Foods, Inc.
3. Buzz Away and Green Beaver

Buzz Away, is an all natural bug repellent. Buzz Away does contain gluten, which can be harmful to someone with Celiac Disease or gluten sensitivity. Green Beavers certified organic Andiroba Outdoor Lotion Spray is citronella, DEET, and gluten free. New Vitality Health Foods, Inc. carries both products.
3. Bug Bands

Bug Bands Geraniol, a plant-based ingredient has been effective at repelling mosquitoes in studies. The products come in a spray, towelette, or a wristband. The wristband release vapors that form a protective shield, keeping insects away for up to 120 hours. Bug Bands can be found at most sporting good stores.
4. Grow the right plants and keep the garlic handy

Plants such as horsemint, rosemary, marigolds, ageratum, agastache cana, and parsley are said to have odorous attributes that mosquitoes detest. Simply crush the leaves to release their scent, or rub them on your skin and clothing for the most protection. Mosquitoes cannot tolerate the sent of garlic. Garlic is a proven mosquito and tick repellent.
5. Burn a bit of the herb

When having an outdoor party, burning sage or rosemary on the barbecue coals will repel mosquitoes. There is evidence that mosquitoes dislike the smell of these plants.
6. Immediately discard grass clippings

Adult mosquitoes love to bread in extraneous vegetation. Weed whacking, bagging the grass after moving, and properly discarding of grass clippings will prevent them from gathering near your home.
Sourek concluded, Take sensible precautions in using any type of mosquito repellent. Always apply sparingly, especially on young children. Bug repellents last longer and are not washed away by sweat if they are applied on clothing vs. directly on skin. If you do use it on skin, test a small area such as inside an elbow to see if your skin has an allergic reaction.
About New Vitality Health Foods, Inc.:

Established in 1988, New Vitality Health Foods, Inc. provides Chicagolands largest selection of allergy-free foods that have met their high standards for taste, quality, and nutrition. New allergy-free foods are introduced weekly. They also carry frozen foods, vitamins, herbs, homeopathic, aromatherapy, body care, pet care, household items and much more. New Vitality features only the highest quality, effective nutritional supplements to support their customers total health. New Vitality Health Foods, Inc. is located at 9177 West 151st Street, Orland Park, Il 60462 (708) 403-0120 http://www.newvitalityhealthfoods.com


Sources:

1.