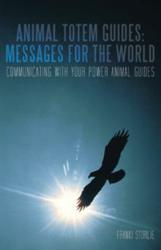 ELLENSBURG (PRWEB) November 04, 2011
Residents of Zanesville, Ohio, awoke to an unusual morning on Tuesday, October 18th. Terry Thompson, owner of the private Muskingum County Animal Farm near Zanesville, threw open the cages of his more than 50 exotic animals before committing suicide. Sherriffs deputies were instructed to shoot to kill. The massacre which, at last count, resulted in the death of 49 animals including 18 rare Bengal tigers and 17 lions was a testament to many things; lax animal ownership laws and questionable animal import practices among them. The ordeal also was a testament to modern societys lack of familiarity with the animals they share the planet with, a point many celebrities and animal-rights organizations echoed. Celebrity DJ Samantha Ronson tweeted: Did they really have to kill them? Becoming familiar with animal instincts, spirits and guiding wisdom takes center stage in the new book Animal Totem Guides: Messages for the World: Communicating with Your Power Animal Guides (published by iUniverse) by Franki Storlie.
Storlie believes that every person possesses a spirit heart and soul that waits to be reawakened and longs to seek spiritual knowledge. In her guidebook Animal Totem Guides: Messages for the World, Storlie relies on her Native American ancestry and her personal experiences to provide clear direction on how each of us can connect with our own souls and spiritual guides, ultimately realizing true joy, inner peace, wisdom and love in the process.
Those studying metaphysical and spiritual teachings will find much to enjoy about this reference book, as will those looking to communicate and deeply connect with those spirits (both animal and human) aro